Restaurant "Revelation of the year 2020"
#9 of top 10 favorite restaurants in Portugal 2020
"The best vegetarian restaurant i've ever visited" Joao P.
"Exceptional and creative vegetarian restaurant. For vegetarians and lovers of exquisite food in General" Nuno M.
"The best vegetarian cuisine ever tasted. Fabulous dishes. Excellent wine recommendations. 150% recommended!!" Alina S.
"The food is unbelievable. Not your typical vegetarian restaurant. Textures, balances and flavors are next level. Art in a plate and delicious as well. 1000% recommended." Rudy S.
Welcome to our home, Arkhe, a place to celebrate life.
our history
In February 2019, a place called Arkhe is born in Lisbon. From the passion for a cuisine based on the vegetable world, João Ricardo Alves – Portuguese-Brazilian chef – creates a place that takes us back to the origins. A journey through great restaurants of vegetarian cuisine in Europe allowed him to accentuate and affirm his classic training in French and Italian cuisine. João Ricardo Alves decides to settle in the country of his roots to share his vision. March 2020 was the beginning of a global change. From introspection comes the opening to a new path thanks to his merger with the Franco-Colombian Alejandro Chávarro – director of restaurants and sommelier of famous multi-star houses in France and Spain. A trained cook, Alejandro now joins his passions in one place: Give sense to wine through the kitchen. Passionate about their crafts, João and Alejandro combine their talents to welcome you with kindness, simplicity and humour into their home.
[ar-khê]
Greek/noun
According to the pre-Socratics, it would be the principle present in everything, the substance from which all things exist.
Origin: the starting point of an action or thing that has continuity in time and/or space; starting point; origin. birthplace; nationality.
Arkhe is a small private owned house led by two restaurateurs who put hospitality in the heart of the craft. We believe a restaurant should be thought for the comfort and enjoyment of our guests.
our challenge
Arkhe is a place where we celebrate life. 
Starting at the door, to the table, kindness and passion dictate our dining room service. We believe it is possible to have a unique and magic experience with a cuisine based on vegetal tissue thought for all, with complex cooking techniques, only seasonal vegetables and lots of generosity.
We Believe it is possible to see our industry with a different perspective. With dignity, passion and nobility, every aspect of service and management will enhance every guest experience to come to a personal, conscious and hospitable restaurant.
We have a deep engagement to offer conditions to our team. Sustainability for us starts on HUMAN Sustainability first.
Arkhe is closed weekly on the weekends and Monday lunch above all to allow us to have a quality Family life. Several holiday closing periods allow us to enhance this balance.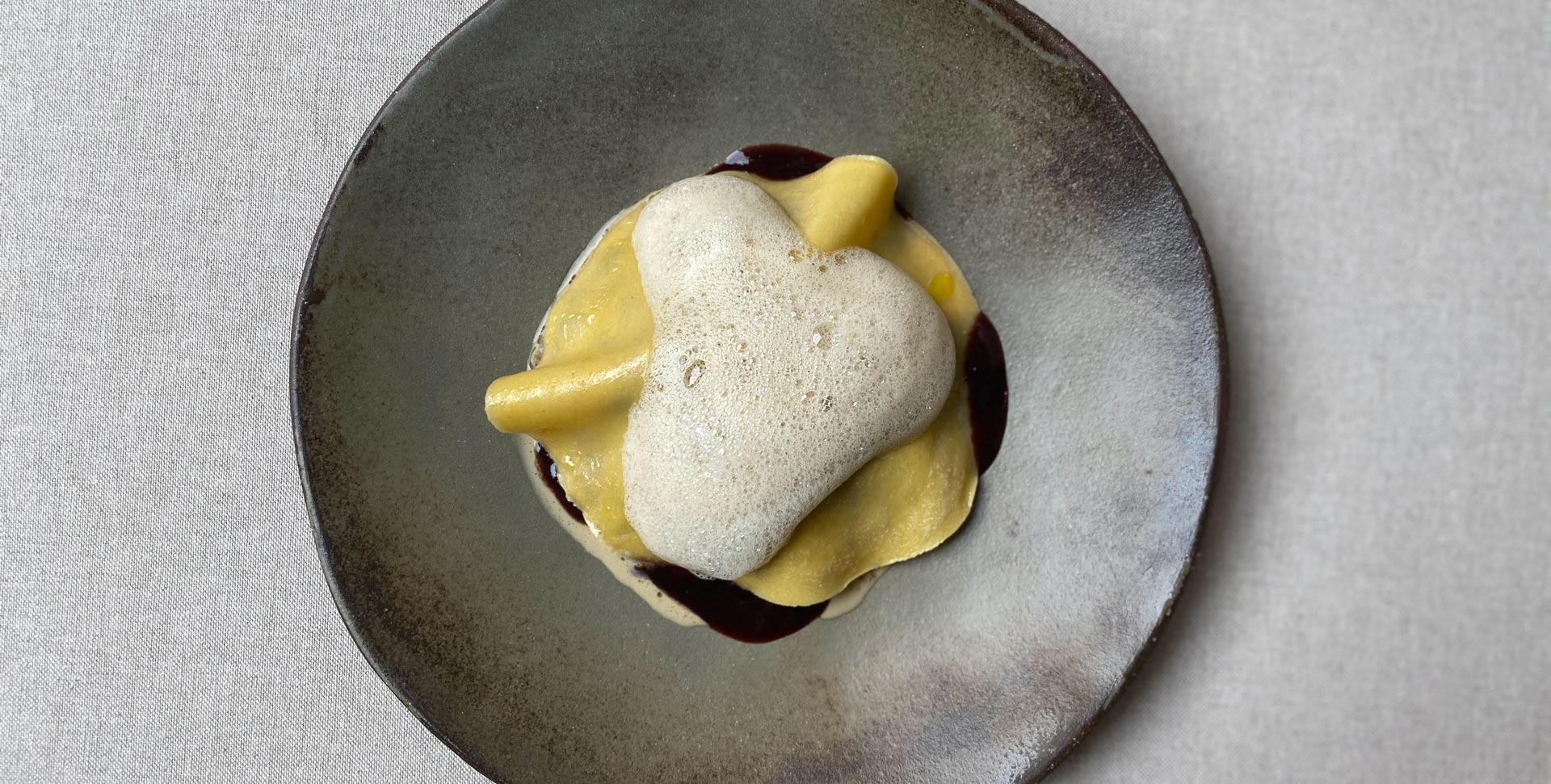 We have managed to build through the years an inclusive and participative creative process. Starting from what we try in a glass, based on a large selection of wine and beverages, we write a large sprectum of tastes, flavors and nuances.
This allows us to aim, seasonal produce we would like to work around, through one or several techniques in order to enhance the product and close the dialogue between wine & food.
This way of work allows us not to be approximated but very accurate with an innate harmony. Our objective being to offer the most balanced and harmonious food and wine pairing. But also to offer a great, simple and generous dining experience.
seasonal menus 2023
( From February 1st 2023)
Lunch Service
♦ Seasonal Menu * – 3 Courses – 50eur/pers
Wine Pairing – 40eur/pers
(* Menu served exclusively for lunch time)
♦ Discovery Menu – 5 Courses – 70 eur/pers                                              ♦ Carte Blanche Menu – 7 Courses – 90 eur/pers
 ◊ Wine Pairing – 60eur/pers                                                                          ◊ Wine Pairing – 80eur/pers
— — —
Dinner Service
♦ Discovery Menu – 5 Courses – 70 eur/pers                                              ♦ Carte Blanche Menu – 7 Courses – 90 eur/pers
  ◊ Wine Pairing – 60eur/pers                                                                         ◊ Wine Pairing – 80eur/pers
— — —
Our cuisine is based on vegetal tissue, guided only by seasonal products. This is the reason why our mensu are in constant movement during the year.
We invite at each table to choose the same type of menu for each one of the guests.
Each menu corresponds to a choice for one person.
We do not host tables above 6 people in a common table.
chef
João Ricardo Alves
He is a chef who combines passion, technique, study and creativity with strong environmental awareness. With the combination of these elements, he proposes an innovative and modern vegetable-based cuisine. With a background in classical French cuisine, his professional career led him to work in different countries such as Switzerland, France and England. During the first years, he had the opportunity to practice in haute cuisine restaurants and from that passage was the knowledge, discipline, rigor and love for the profession.
sommelier / restaurant manager
Alejandro Chávarro
He started as a cook, but it was as a Sommelier and Restaurant Director that he began to assert himself and grow in the restaurant world. Born in Colombia and naturalized French, Alejandro Chávarro lived the last years in Paris where he was responsible for renowned restaurant rooms and the wine cellar of the best restaurants in the French capital. For more than a decade, Alejandro accompanied winemakers around the world and built the best wine lists with them. But it was a trip to India that made him change course in life, professionally and geographically in Lisbon.
Linus Klein – 1er Sous Chef 
José Pires – Chef de Partie Patisserie
Guilherme Zvir – 2eme Sous Chef 
Marion G. – Sommelière/ Maître d'Hôtel
training & consulting
Creation, implementation and monitoring of projects.
reservations and contacts
Open from Monday to Friday

Lunch: 12h30-14h00 (tuesday to  friday)

Dinner: 19h30-22h00 (last order)

The restaurant closes at midnight.
Boqueirão do Duro 46, Lisboa